High Speed Internet

No business to big or to small
Every business has unique needs, even when it comes to Internet. Whether you are looking for a primary connection or a backup service to Community Wireless is here for you offering a range of Internet services to meet your specific needs.
High Speed Internet
Static IP Addressing
Point to Point solutions
VPN Support
Competitive Pricing
Fail Over Internet
Unlimited Nationwide Phone Service

Affordable VoIP phone service


Phone service with Community Wireless is simple and cost effective with solutions for businesses with multiple locations, call centers to the one line shops. Some of our features include:
Free long distance in Canada and the Continental US
Affordable Toll Free service
Ability to connect multiple offices to improve customer support and satisfaction
Full PBX functionality
Networking / Setup

Setup and Installation of routers, computers, printers and more..

Community Wireless offers many in business services that include router setup and configuration, computer setup and installation, printer & peripherals setup and many other related services.



Website Design

Website Design and Web Application Development
Whether you're looking for a simple customer facing website, a mobile website or a full featured web application to handle nearly any task the development team at Community Wireless can work directly with you to accomplish your goals. Call today to speak with one of our representatives about what we can do for you!


Tower Installation / Removal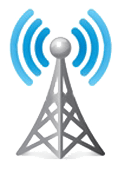 Have or need a tower?
Community Wireless stocks new and used towers for quick deployment. Whether you need a small tower for Ham, TV or to boost your Internet signal, we can help with that. Fully insured professionals are ready to assist you with tower installation or removal.

Interested in a broadcast tower? Community Wireless can look at your location and elevation to determine if your site will be viable for Re-Broadcast of our services. Call today to get more information on pricing and incentives!
Services

At a glance
High Speed Internet
Unlimited Phone Service
Residential Networking
Business Phone Service
VoIP implementations
Business Networking
High Capacity Point to Points
Dedicated Internet
Tower Construction
Tower Decommission
Consulting
Big News

Large Project Updates and more
Covid-19 Update - What we are doing
Extended Free Hours, Faster slow downs, Late Fee and Suspension Avoidance Read the release
Covid-19 Release
New Washington
New Washington is now a GigaBit City through our Community AirFiber product line. Offering speeds up to 1,000 MBPS
01/01/2020
Hotspots
We now have 1,000 MBPS feeding multiple hotspots in New Washington and Downtown Charlestown currently free to assist the community
03/15/2020
Hawks Landing Subdivision
Community AirFiber has been deployed through Hawks Landing
12/2019