Residential Services

Complete Home Solutions
High Speed Internet.
Community Wireless offers High Speed Internet to Urban and Rural communities alike. We strive to deliver the latest, solid technologies in order to provide the fastest, most dependable service possible. We do not limit your speed in order to get you to pay more to get information quickly. Instead we take a simple approach and have plans specifically designed to suit your needs as a user. Our plans are geared to surpass the competition by leaps and bounds making Community Wireless the right choice!
High Speed Internet
Service Plan

Monthly Fee

Bronze

$40

10 Gb

Unlimited

$5 for 5 Gb
$25 for 50 Gb

Silver

$60

50 Gb

Unlimited

$5 for 5 Gb
$25 for 50 Gb

Gold

$80

100 Gb

Unlimited

$5 for 5 Gb
$25 for 50 Gb

Platinum

$100

200 Gb

Unlimited

$10 for 100 Gb
$40 for 500 Gb
Monthly prices shown are after all taxes and fees. There is a one time installation charge. No term contract required! Call today for more information and current specials and promotions.
Worried about going over your usage?
Free Surf from 2AM to 7AM -Usage in this time frame does not count towards your usage!
5 GB and 50 GB Bonus packs available for as low as $0.50 per GB compared to other providers at $15 Per GB!
Continue to surf the net at a reduced speed for free! Call for details.
Unlimited Nationwide Phone Service

Affordable VoIP phone service

Unlimited phone service plan starting at $25*
Voicemail, Find Me Follow Me, CallerID, Call Waiting, and Voicemail to eMail, are included in the Unlimited Phone plan!
General Requirements
Requires a High Speed Internet Connection.
*911 and 411 may be limited in certain areas.
* Pricing above does not include taxes, fees and surcharges
In-Home Networking / Setup


Setup and Installation of routers, computers, printer and more..
Community Wireless offers many in home services that include router setup and configuration, computer setup and installation, printer & peripherals setup and many other related services.


Tower Installation / Removal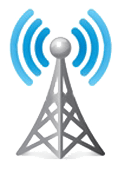 Have or need a tower?
Community Wireless stocks new and used towers for quick deployment. Whether you need a small tower for Ham, TV or to boost your Internet signal, we can help with that. Fully insured professionals are ready to assist you with tower installation or removal.

Interested in a broadcast tower? Community Wireless can look at your location and elevation to determine if your site will be viable for Re-Broadcast of our services. Call today to get more information on pricing and incentives!
Where we offer High Speed Internet

High Speed Internet available for:
---
Services

At a glance
High Speed Internet
Unlimited Phone Service
Residential Networking
Business Phone Service
VoIP implementations
Business Networking
High Capacity Point to Points
Dedicated Internet
Tower Construction
Tower Decommission
Consulting
Big News

Large Project Updates and more
Covid-19 Update - What we are doing
Extended Free Hours, Faster slow downs, Late Fee and Suspension Avoidance Read the release
Covid-19 Release
New Washington
New Washington is now a GigaBit City through our Community AirFiber product line. Offering speeds up to 1,000 MBPS
01/01/2020
Hotspots
We now have 1,000 MBPS feeding multiple hotspots in New Washington and Downtown Charlestown currently free to assist the community
03/15/2020
Hawks Landing Subdivision
Community AirFiber has been deployed through Hawks Landing
12/2019